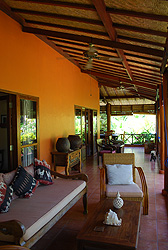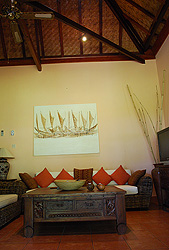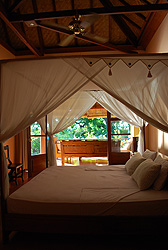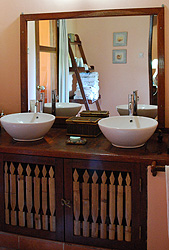 .:: Interior and amenities ::.
Our Villa Impian has a living-space of 176 square meters, whereof 102 square meters consist of a comfortable arranged terrace. This terrace is well protected against sun and it is encircled by tropical plants and palm trees. With an ocean view and magnificent silence you can relax perfectly wonderful. The ocean is only 50 meters away from the house. In addition to that, the architecture of the villa produces a lot of light and air, so you always have a pleasant fresh breeze.
---
.:: The generous terrace ::.
is an open air living-space with a premium interior. In addition to cosy seating there is an antique dining table, a cuddly day bed and a desk with sea view. The whole house is equipped with wireless ínternet access ( WiFi).
---
.:: The comfortable living-room ::.
is sized 30 square metres. Together with the other rooms ( bedroom - 20 sqm, dressing room - 12 sqm, entrance - 6 sqm ) it builds an open and generous living-space with high ceilings. The full length windows to the terrace provide for enough air and light in the living room. Nevertheless there is no direct sun irradiation, so that the rooms are comfortably tempered. The living-room has an air conditioner with that you can reduce the temperature in the whole living quarters on 20 degree Celsius.
The living-room is equipped with a televisor that gets German-speaking and English-speaking channels (e.g. Deutsche Welle, CNN, BBC) and also different other English programs and movies. A DVD-player is also available. There is a wide range of books about several topics ( e.g. Interior, Architecture, Garden, Travelling) and German novels as well.
---
.:: The beautiful bedroom and the bathroom ::.
are connected with each other through the dressing room.The size of the bedroom amounts 20 sqm and it is equipped with a king-size bed. A swing door seperates the bedroom from the living-room and another door leads to the bathroom via the dressing room. The bedroom has wide panorama windows and an access to the terrace.
The size of the bathroom amounts 12 sqm. It is equipped with a shower and you can reach it by the dressing room or by the terrace. The latter is a quite practical and comfortable solution, if you have guests or if you come back home from the beach.
---
.:: The kitchen ::.
The size of the kitchen amounts 24 sqm and as it is equipped with all imaginable accessories, it is perfect for gourmets and for gourmet cooking. The core of the kitchen is the ultra-modern and highly productive gas stove of the label "Ariston". It has five cooktops and a big oven ( convection oven and grill). The refrigerator has a huge capacity and a big freezing compartment. There are also available a lot of spices and ingredients for cooking.
---